Niner United is UNC Charlotte's Episcopal, Lutheran, Presbyterian, and United Methodist campus ministry. Everything we do is focused on helping UNC Charlotte students know and follow the grace of the radically inclusive and loving Jesus Christ.
UNC Charlotte is still up and running with online classes and some students remaining in the residence halls. This means campus ministry is as busy as ever providing round-the-clock pastoral and ministerial support to the UNC Charlotte community. In addition to remaining available to students and being steadfast in our outreach, we are now also offering daily and weekly devotions, an online prayer request, and live online gatherings. More info can be found here.
We are very grateful for your support. Donations of all sizes make an incredible difference and are critically important to our ministry. If you are able, please give today to help us continue our reach to the fastest growing university in the Carolinas.
Reflections on the 2019-2020 Year
Niner United reached over 5,700 students this year at UNC Charlotte with hundreds of active students participating in a variety of events, worship services, outreach opportunities, and small groups. Yesterday our students donated 10,000 N95 masks to a nearby hospital. Read our 2019-2020 brief report below and found out more. 
Our year-end report begins with last year's horrific and tragic events that forever changed UNC Charlotte. On April 30, 2019, two UNC Charlotte students were killed and five others wounded in another senseless school shooting. Our summer and fall 2019 semesters were radically altered. You can read our campus pastor's reflections immediately after the event.
Student Leaders Retreat May 2019
In mid-May, we began planning for the summer and fall with our annual School of Immersion and Leaders Retreat.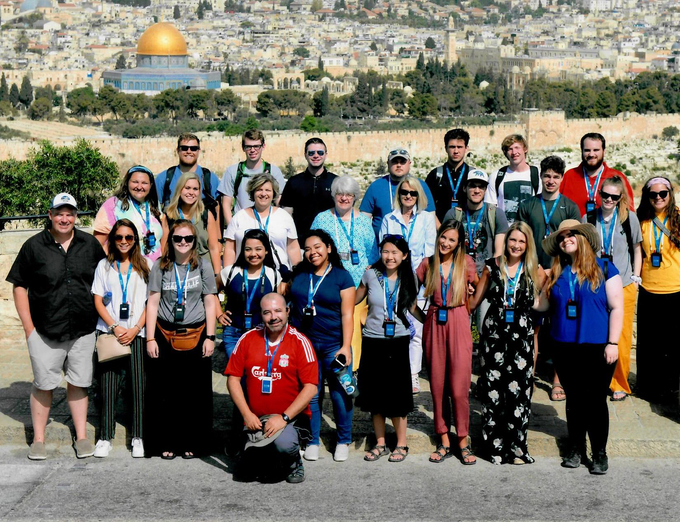 Holy Land
In June, twenty-six students, faculty, and staff traveled to the Holy Land for a ten-day pilgrimage following the footsteps of Jesus. The trip was led by the campus pastor.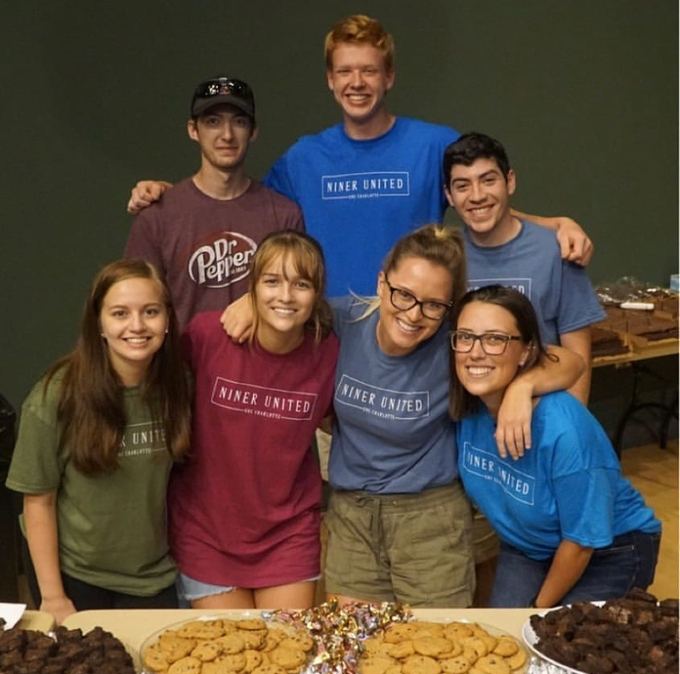 49er Gold Rush
During the first week of school, over 200 freshmen attended our opening worship, and over 700 attended our Death by Chocolate event. Other welcoming events included a cookout in the quad of North Village, our Wednesday worship, and our Thursday lunch.
Wednesday Worship
Niner United gathered every Wednesday with worship that included a message, music from our band, and the Eucharist.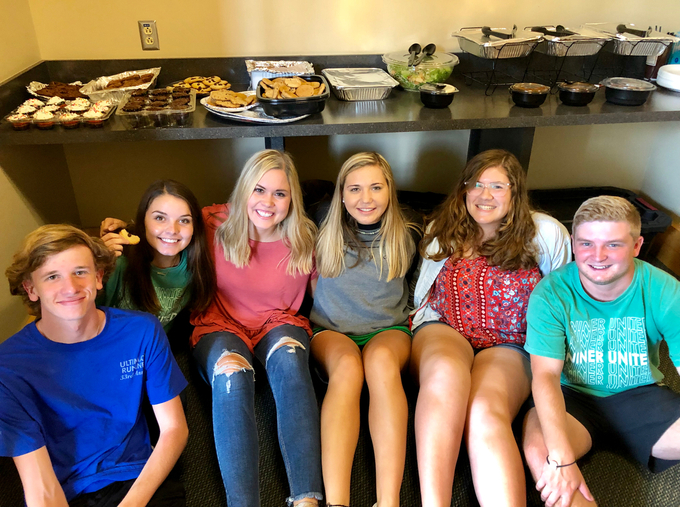 Thursday Lunches
Niner United gathered every Thursday with a midday devotion and lunch.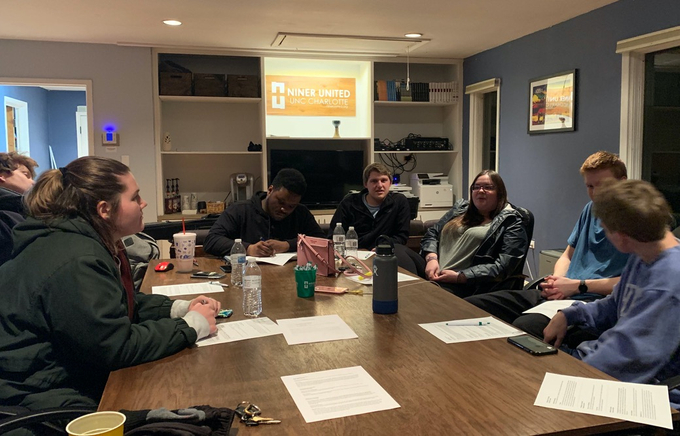 Small Groups
Several weekly small groups were offered both semesters. Highlights include Acts – a service group that met to provide local outreach, Bloom – a group for students discovering ways to keep their faith in college, Core –  a group that explored the "core" of Christian beliefs, Real – a women's Bible study, and FYI – a group for first-year students.
Denver Fall Break
In October, students traveled to Denver, Colorado, and worked with People's Presbyterian Church serving in inner-city mission and ministry.
Exploration Orlando
In November, several students traveled to Orlando to attend an exploration for an ordained ministry event.
Girls & Guys Retreats
On the same weekend in January, we had a guys retreat, and girls retreat. The retreats helped students grow closer to one another and to God.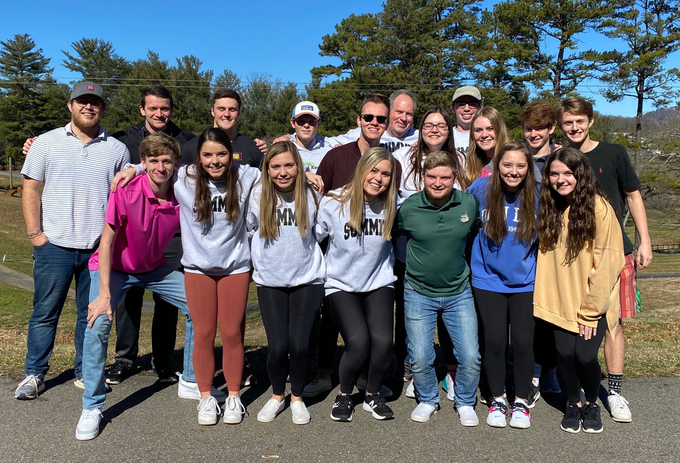 Summit Youth Retreat
In February, students traveled to Asheville to help lead a youth retreat for groups across the region by leading small groups, emceeing the event, and running the retreat store.
Witherspoon Event
In February, we celebrated Norm Schul's dedication to campus ministry. We honored Norm with the Loy Witherspoon Award for Distinguished Service in Campus Ministry.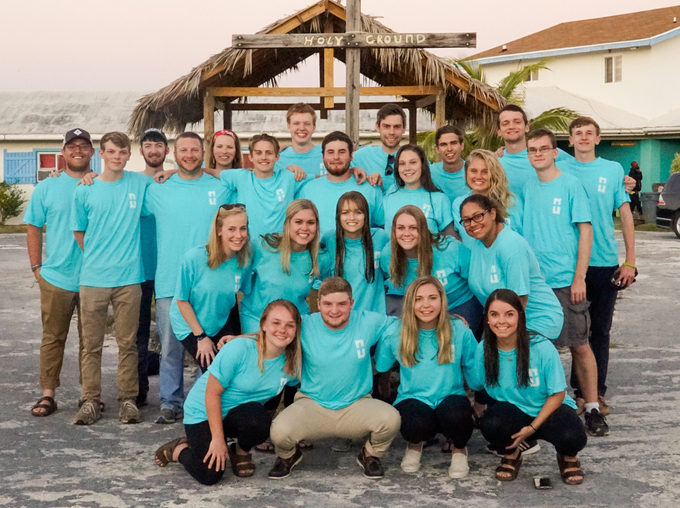 Spring Break Bahamas
A group of twenty-four students traveled to The Bahamas to assist in the relief efforts from Hurricane Dorian that made landfall precisely six months before our trip. We spent the week building relationships with each other while working on home repair projects across the island.
COVID-19 Service & Outreach
On March 25 and 26th several Niner United students spearheaded the sorting, boxing, and donating of 10,000 N95 medical masks to CaroMont Health System. The masks were at the local United Methodist relief warehouse.
Student Leader Graduations
Our hearts go out to all graduating seniors, especially those who were part of Niner United. We want to recognize four seniors who served on our 2019-2020 student leadership team: Cameron Burnette, Tim Groff, Leah Kresser, and Diego Nacionales.These and other graduates will not "walk" in May due to the Coronavirus. Nonetheless, we celebrate their hard work and accomplishments.

Thank You!
On behalf of our Board of Directors and our 2020-2021 Student Leaders, the staff of Niner United thanks you for your continued support and prayers.